Roll-Off Dumpster Services
Homeowners, businesses and contractors in 8 eastern South Dakota counties depend on Cook's Waste for safe, timely, and cost effective roll-off dumpster service.
Cook's Waste offers customers:
Prompt, safe delivery and pickup
Inventory of containers for small and large projects
Temporary and permanent roll-off dumpster rentals
Collection frequency up to 5 days a week for maximum waste management
Dedicated containers to sort materials according to their final destination
Containers
Cook's Waste professionals can help you determine the right size roll-off container for your project. And, depending on the project, other container sizes can be requested to keep valuable recycling materials, like scrap metal or cardboard, out of the landfill.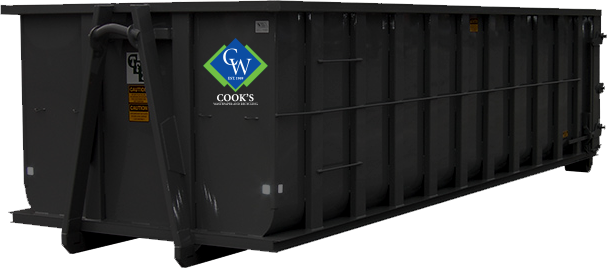 | Roll-Off | L x W x H |
| --- | --- |
| 10 Yard Dumpster | 10' x 6' x 3' |
| 15 Yard Dumpster | 15' x 8' x 6' |
| 20 Yard Dumpster | 20' x 8' x 6' |
| 30 Yard Dumpster | 30' x 8' x 6' |
Materials
For safety, environmental and legal reasons, only certain items may be placed in Cook's Waste containers and customers are responsible for what they place in containers. It is wise for customers to share the list of acceptable and unacceptable items with their employees.
Construction and Demolition (C&D) – Acceptable Materials
Asphalt (from roads and roofing shingles)
Bricks
Concrete
Gypsum (the main component of drywall)
Plastics
Metals
Salvaged building components (doors, windows, and plumbing fixtures)
Trees, stumps, earth and rock from clearing sites
Trash Containers – Acceptable Items
Food waste
Non-hazardous general business waste
Packaging waste
Styrofoam (polystyrene)
Trash Containers – Unacceptable Items
Appliances
Batteries, rechargeable and vehicle
Dead animals
Electronic waste
Hazardous waste
Liquid waste
Medical waste
Propane tanks
Tires
Yard waste
Old Corrugated Cardboard (OCC) Containers
100% corrugated cardboard (not greasy)
Single Stream Recycling Containers – Acceptable Items
Metal: Steel/tin cans, aluminum cans (under 1 gallon)
Paper: Newspaper, magazines, junk mail, brown paper bags, office paper
Plastic containers: bottles, tubs and jugs (under 5 gallons) remove caps
Shredded paper bagged in tough, clear bags and knotted shut (80# strength bags)
Plastic bags & wrap bagged in tough, clear bags and knotted shut (80# bag strength)
Single Stream Recycling Containers – Unacceptable Items
Any item not on the allowed list
Call Cook's Waste:
605-693-3363
1026 34th Avenue,
Brookings, SD 57006