Commercial Services
Cook's service area boasts state-of-the art manufacturing facilities, specialty businesses and essential businesses for every community. Cook's Waste offers customers:
A wide selection of dumpster sizes and 95 gallon carts.
Containers for trash, old corrugated cardboard or single stream recycling.
Collection frequency up to 5 days a week for optimum waste management.
Sanitation is essential for healthy living in our communities. Working together, area businesses, organizations and Cook's Waste, strive to safely collect and properly dispose of waste and recycling materials.
Dumpster Rental
Cook's Waste offers rear load dumpster rental service. Our professionals can help your organization determine the right size and collection frequency to meet your needs during both the high and low demand seasons.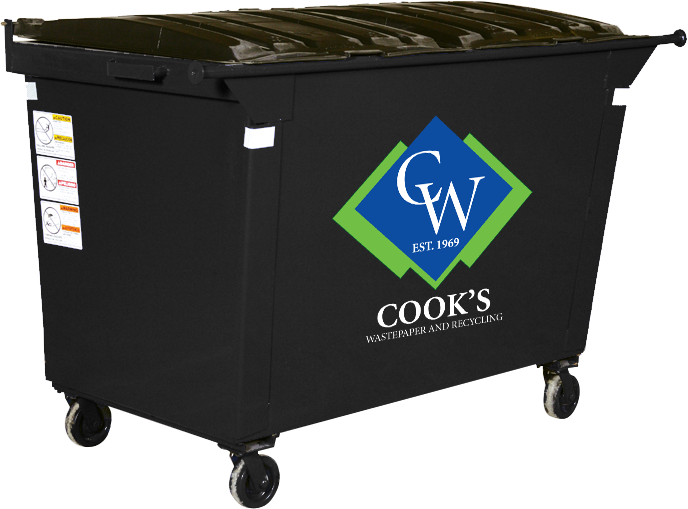 | Rear Load | L x W x H |
| --- | --- |
| 1.5 Cubic Yards | 5' x 3' x 3' |
| 2 Cubic Yards | 5' x 3.5' x 3.5' |
| 3 Cubic Yards | 5' x 6' x 3' |
| 4 Cubic Yards | 5' x 6' x 3.75' |
| 6 Cubic Yards | 5' x 9' x 4' |
| 8 Cubic Yards | 5' x 12' x 4' |
Roll Carts
At Cook's Waste, we offer 95 gallon roll carts for trash or recycling for those organizations that do not need rear load containers.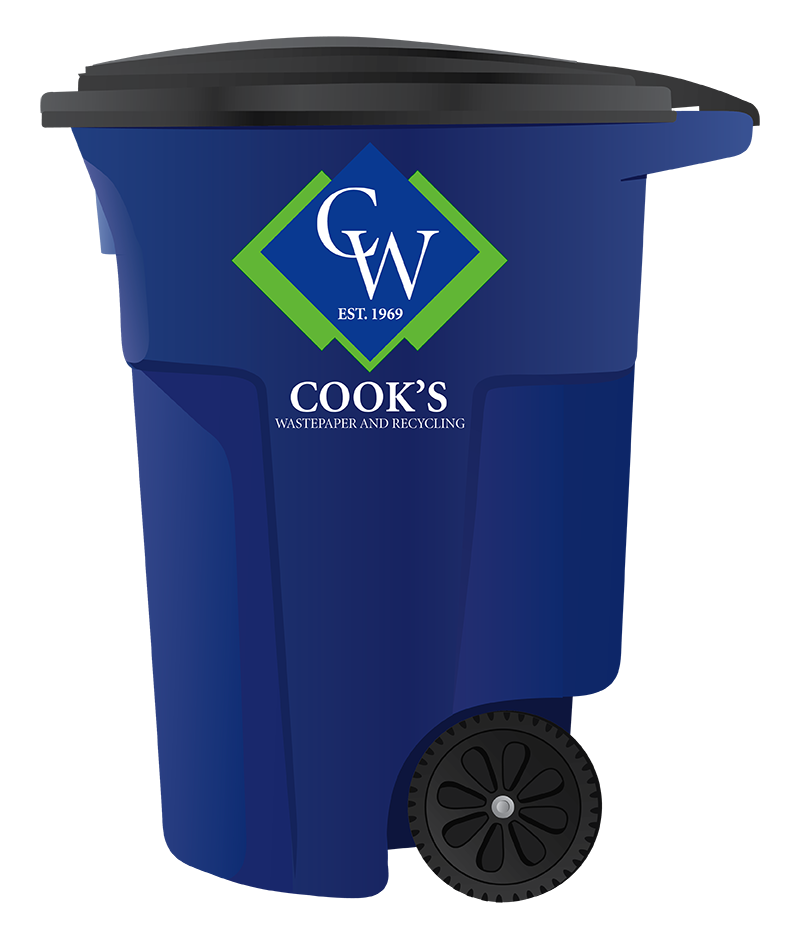 Materials
For safety, environmental and legal reasons, only certain items may be placed in Cook's Waste containers and customers are responsible for what they place in containers. It is wise for customers to share the list of acceptable and unacceptable items with their employees.
Trash Containers – Acceptable Items
Food waste
Non-hazardous general business waste
Packaging waste
Styrofoam (polystyrene)
Trash Containers – Unacceptable Items
Electronic waste
Hazardous waste
Liquid waste
Medical waste
Rechargeable batteries
Yard waste
Old Corrugated Cardboard (OCC) Containers
100% corrugated cardboard (not greasy)
Single Stream Recycling Containers – Acceptable Items
Metal: Steel/tin cans, aluminum cans (under 1 gallon)
Paper: Newspaper, magazines, junk mail, brown paper bags, office paper
Plastic containers: bottles, tubs and jugs (under 5 gallons) remove caps
Shredded paper bagged in tough, clear bags and knotted shut (80# strength bags)
Plastic bags & wrap bagged in tough, clear bags and knotted shut (80# bag strength)
Single Stream Recycling Containers – Unacceptable Items
Any item not on the allowed list
Compactors
For 50 years, Cook's Waste has customized their services to meet the evolving needs of their commercial, institutional and industrial customers. Professionals at Cook's can order a range of compactors, dock load hoppers and balers in various colors.
Compactor benefits include:
Controls odor
Extends pavement life
Prevents unauthorized container access
Reduces fire hazard
Reduces insect and rodent issues
Reduced number of collections
Saves inside and outside space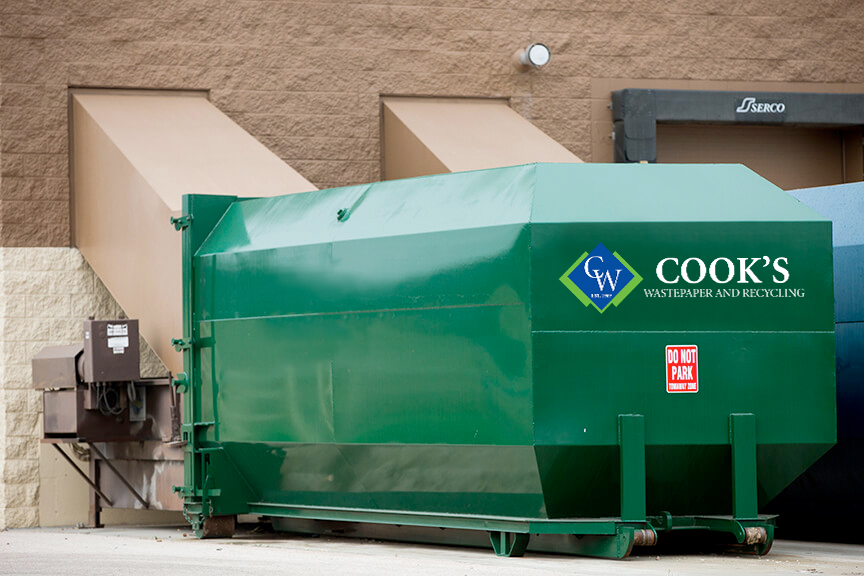 Billing
Commercial customers are invoiced monthly on the 1st of the month and payment is due by the 20th of the same month. Payments can be made by mail, phone or online. We accept American Express, MasterCard and Visa.
Call Cook's Waste:
605-693-3363
1026 34th Avenue,
Brookings, SD 57006